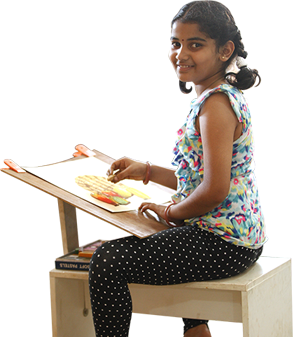 Art Cubs is a venture by Life & Art Academy to spike the interest in art among young children. At their budding age, our courses will help develop their motor skills, patience and overall personalities. Engaging them in learning clay art, drawing and painting, sculpting, pottery and other art forms is a much better way to occupy their young minds, rather than through television and other digital distractions of today's world.When the creativity of children is tapped at an early age through such hands-on activities, they have the opportunity of understanding the different nuances in the world of art and can choose to take it up as a hobby or professionally later in their lives.
At Art Cubs, we offer three art courses for children between the ages of 7 – 12 years: Junior Fine Arts Programme (J-FAP), Clay Cubs & Colour Cubs.
Dates And Timings
| | |
| --- | --- |
| Saturday: | 10.30am - 12.00 noon |
| Sunday: | 10.30am - 12.00 noon |
Junior Fine Arts Programme (J-FAP)
This is a 3 year art programme for children, giving them sound knowledge about almost all the art forms offered at Life & Art Academy. In the first year, the course will teach them the basics of pottery, drawing and painting, sculpting etc. Depending on their aptitude and interest they can pursue all or any of the art forms in detail in the subsequent 2 years.
The J-FAP programme will help children evolve into young adults with enriching hobbies and possibly into talented future artists. It is an ideal extracurricular activity for students, apart from their academic pursuits. This programme is structured as annual curriculum for children aged between 7 to 12 years. They will progress to higher levels as they complete each year and move to the next. At the end of each year, children will be graded on the work developed during the year and certificates will be awarded.
Course fee: 48,000/- p.a. payable as quarterly instalments of Rs. 12,000/-
Number of classes: 8 per month (weekend classes)
Clay Cubs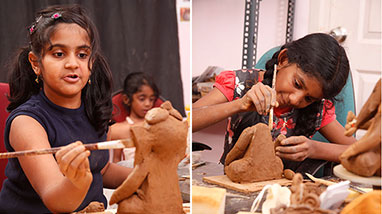 Clay Cubs introduces young children to the exciting world of clay and pottery. It is a cool, fun way to develop and improve their motor skills, as they knead and handle the clay. They learn the various processes involved in clay art, such as hand building techniques, crafting techniques, creating figures and shapes using the different tools and much more. As they learn to use their hands to handle different tools and clay, their concentration, imagination and creativity also improve.
The Clay Cubs program lays the right foundation for children to develop an active interest and understanding of pottery and sculpting. This foundation will be helpful for them to pursue the art at a more serious level in their future. So what are you waiting for? Enrol your little ones today!
Course fee: Rs. 2500/- per month
Number of classes: 8 per month (weekend classes)
Colour Cubs
Life & Art Academy's Colour Cubs is a unique venture in the field of Drawing & painting when compared to other institutions as our approach to art education is quite different. In Colour cubs, children are introduced to the right method of learning drawing and painting, which is not through mindless copying of drawings in pre-printed colouring books, or tracing from a drawing book, or any form of strict learning with boundaries. Our students are encouraged to learn art through their own expression – by learning through live objects and models right from the beginning. This is the right approach to develop an artist within the child, as he / she will harness their own expression and interpretation of the subject.
In this course, students will be introduced to many mediums of drawing and painting - pencil sketching, shading, pastels (dry & oil) and watercolours. They will also be taught free hand drawing, 2D and 3D drawing.
So enrol your children today and watch them transform into the artists of tomorrow!
Course fee: Rs.2000/- per month.
Number of classes: 8 per month (weekend classes)
Kids Photography
Every family vacation includes the digital camera and handy cam. Adding to that, all of us have smart phones.
How better to channelize the excitement and creativity of children towards an art, that matches their impatience with instant rewards? Unlike other art, which requires time, effort and patience to see the end result, photography is a more dynamic and quick-to-please art. However, the art of good photography has to be learnt properly. Only then will every click be frame-worthy.
Introduce your children to the art of photography through Life & Art Academy. We offer two levels of courses starting from basics and covering detailed topics of Handling the digital camera, Composition, Lighting and much more.
Please note:
All students will be charged Rs.500/- as a one-time registration fee for all course at Life & Art Academy.
Students will have to enrol for a minimum period of 3 months for eitherClay Cubs or Colour Cubs.
Students have the option for enrolling for both courses at the same time, for which the fees will be Rs.6000 per month with one class of each course every weekend (Saturday – Clay Cubs & Sunday – Colour Cubs)