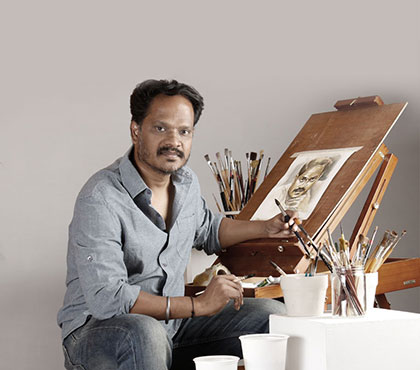 Life & Art Academy is the brainchild of its Founder & Director, DewakarChandran – an Artist, Sculptor, Photographer and Creator. Dewakar envisioned a forum for artists and aspiring artists to grow, teach and learn from one another. This simple idea snowballed into establishing a full-fledged academy offering top-notch art education across many genres.
Dewakar is an artist with many facets. He is the Founder & Director of Life & Art Academy. His passion for art stemmed from an early age and led him to pursue art in its varied forms. His area of specialization is surrealism and he recently held an art exhibition in the city displaying over 50 paintings. Do visit www.dewakarartgallery.com to view or purchase his paintings.
Dewakar is also the founder of d5 studios, an ad agency which offers creative solutions to many clients across industries in Chennai. The agency offers creative branding solutions and designing services. Dewakar is an established photographer in the city and has worked across various sectors for both professional and personal photographic pursuits. He started Dewakar Photography as a way to support the creative demands of his advertising agency. However, his talent and passion for photography and filming grew into a full-fledged avenue of interest for him.
Through Life & Art, Dewakar seeks to fulfil his desire to promote art in Chennai and to provide the right learning place for people of all ages explore their artistic side. He believes there is a need to nurture an interest towards art amongst all of us, especially the younger generation who are too caught up in the digital world and fail to see the wonder of art. He envisions a future where Life & Art Academy is one of the leading art schools in the country, identifying and nurturing artists from all over the world.
With his hand in so many artistic ventures, Dewakar's constant thirst to delve more into the world of creation gives him the motivation to keep striving for greater heights.