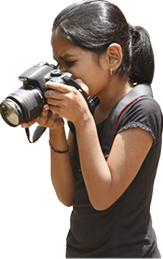 Every family vacation includes the digital camera and handy cam. Adding to that, all of us have smart phones.
How better to channelize the excitement and creativity of children towards an art, that matches their impatience with instant rewards? Unlike other art, which requires time, effort and patience to see the end result, photography is a more dynamic and quick-to-please art. However, the art of good photography has to be learnt properly. Only then will every click be frame-worthy.
Introduce your children to the art of photography through Life & Art Academy. We offer two levels of courses starting from basics and covering detailed topics of Handling the digital camera, composition, lighting, and much more.
Our Professional & Certificate Photography Courses for Adults are listed below.
Dates And Timings
Saturday:
10.30am – 12.30pm or
3pm - 5pm
Sunday:
10.30am - 12.30pm or
12.30pm - 2.30pm