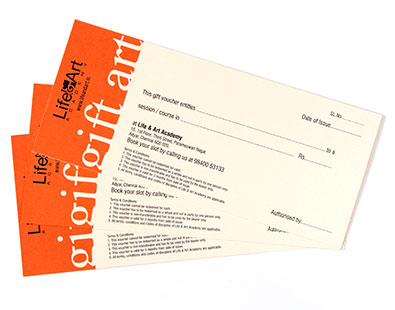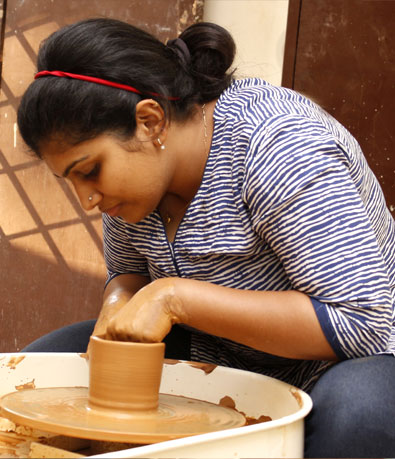 The beginner's level pottery classes were a birthday gift from my husband. A very thoughtful gift, as he knew my fascination for the art. The classes were fantastic ! I find pottery extremely calming and it is fun to watch as the clay dances on the wheel. I look forward to taking the next level. And for those considering this as a gift, don't think twice, it's the best gift idea ever.
- Namitha, Chennai.
We all love to give special gifts to our loved ones. How about this time you gift something that is unique and innovative - one that your loved ones will remember forever? Life & Art Academy is happy to present to you a fabulous gifting option - Gift them an art course!
By gifting an art course, your loved ones get to enjoy an enriching experience, which would be far more enjoyable than any ready-made store bought gift. We have a range of courses from which you can gift an interesting experience for your near and dear ones.
Gift certificates with Life & Art Academy can be purchased for either a particular course or a particular amount, which can then be redeemed by the recipient for any course he/she chooses. To make it more exciting, you can enrol in the same course as your friend and have double the fun!
Gift Art Certificate Price List

No.
Course
Duration
Price (Rs.)
Buy
1
Pottery
2 hours
1,000
2
Sculpting
2 hours
2,000
3
Clay Crafting (Children)
1 hour
1,000
4
Drawing & Painting
3 months
9,500
5
Sculpting (Module 1)
2 months (16 sessions)
15,500
6
Pottery (Level 1)
10 sessions
8,500
7
Tanjore Painting
(One Painting - 10" X 12")
15,500
8
Photography (Basic)
15,000
9
Terracotta Jewellery
7 hours
6,000
We offer the following exciting art courses for you to explore in. Click on any of them to learn more about each course.
Artist Guild; Drawing & Painting
Sculptor's Hut; Sculpting
Hands on clay; Pottery
T3 – The Touch of Tradition; Tanjore Painting
Clay Smith; Terracotta Jewellery making
Art Cubs (for kids between the ages of 7 – 12 years)

J-FAP
Clay Cubs
Colour cubs

Artography - Photography
Please note: if the cost of the course selected exceeds the value of the certificate, the balance will have to be paid by the enrolling student. Our gift certificates are valid for one year from the date of issue.