The Touch of Tradition -

Tanjore Painting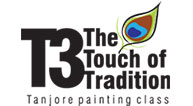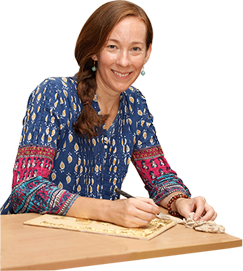 The ancient art of Tanjore Painting symbolizes the grandeur and splendour of gold, fused with the skilful expression of an artist. It is one of the most beautiful forms of art, with its roots tracing back to many centuries. Learning this art is your chance to revisit our cultural heritage and tradition.
Tanjore painting is an art that is highly intricate and requires tremendous focus on detailing. This art form demands perfection, which is achieved through patience, endurance and effort. Understanding the tradition and value of this ancient art form will help the student in creating their own beautiful collection of Tanjore Paintings.
The courses that we offer at Life & Art for Tanjore Painting are:
T3 Level 1:
The Level 1 programme in Tanjore Painting is an introductory programme, where students learn the basics of the art, right from choosing a subject, preparation of the board, muck, working with the stones, gold foil and more. Special attention will be given towards painting and finishing. Guidance in basic painting will also be provided for amateurs. All material will be provided by Life & Art.
Students have the option of choosing the size of their painting, customized sizes can also be worked on. As this is an introductory programme, no certification will be awarded for this Level. This level lays the foundation for the next level, where students become skilful Tanjore artists.
Course Fee: The course fee depends on the size of the painting.
10" x 12" - Rs. 17,500
12" x 15" - Rs. 20,000
14" x 18" - Rs. 25,000
Course duration: An average duration is 6 - 8 weeks; 12 - 16 classes of 2 hours each (twice a week) however, it may vary depending on size of the painting.
T3 Level 2:
The Level 2 programme in Tanjore Painting provides a more in-depth study of the art. As the basics of the art have already been covered, the concentration will now shift towards beautifying the art work. Students will have to concentrate more on the painting and better application of the techniques learnt. They will work on 3 paintings during the duration of the course and will move onto larger sized painting (18" x 14") which will involve more intricate detailing and skill work.
On completion of Level 2, students will be able to create their consecutive paintings independently. Nevertheless, if a student requires further guidance and assistance, they can continue to take up additional classes with us and we would offer mentorship for all their future art works.
Students will be graded on the 3 artworks that they develop during the course. Based on satisfactory completion, they will be awarded Certificates in Tanjore Painting.
Course fee: Rs. 75,000/-
Course duration: 50 sessions of 2.5 hours each
Please note: All students will be charged Rs.500/- as a one-time registration fee for all course at Life & Art Academy.
Life & Art Academy

Membership
Our relationship with the students is not limited to just the duration of the course. After completing the course, students are welcome to become members of the Life & Art Academy as Practicing tanjore Paintings and continue to use our studio to keep in touch with the art. Basic membership charges begin from Rs.3000/- onwards. Depending on usage requirements, charges may vary which will be discussed in person.
Career Scope:
The art of Tanjore Painting is an ancient one which has diminished to a large extent over the years. However, now there are efforts being taken towards the revival of this traditional art. Due to the drop in artists in this field, the value of Tanjore paintings has risen. Artists who learn this art will enter a world of ancient beauty, and the satisfaction of completing a beautiful Tanjore Painting is unparalleled with anything money can buy. Having said that, the monetary value of this art too is quite high in the market. So there is a strong commercial component attached to this art, apart from the artistic pleasure and satisfaction that one derived from it. The scope in the export market is quite high for Tanjore Paintings, as NRIs and foreigners have an avid interest in this art. Lately, one of the newer avenues of work that has opened up is the restoration of ancient Tanjore paintings which may have suffered at the hands of time. There is a rising scope in this line of profession too for artists of Tanjore Painting.
Teacher Training
Teacher Training Module available for this programme. Click here for more content.
This is an advanced training program for students who intend to become teachers of Tanjore Painting. Students would have to complete all the 2 levels of tanjore painting and then opt for this advanced training. More details is available on request.
Alumni Speech
Watch more videos

Course Information
Level 1 : Single Painting
Level 2 : Three Paintings
Dates And Timings
Wed & Thurs:
10.30am - 12.30pm, 3pm - 5pm & 5pm - 7pm
Saturday:
10.30am - 12.30pm, 3pm - 5pm & 5pm - 7pm
Sunday:
10.30am - 12.30pm &
12.30pm - 2.30pm